Contact: Commissioner Maydak
Lafayette Elementary School Project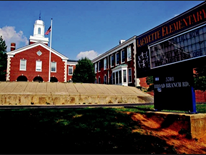 Project Overview
Lafayette Elementary School located at 5701 Broad Branch Road, NW is scheduled for total modernization by FY 2016.
This project is Part of a $3.2 billion, 10-year DCPS School Modernization Program started in 2007. The modernization will require construction of swing space to accommodate students and staff during the construction process as it is assumed that the existing 1970's wing will be demolished to make room for a new addition.
The school currently holds 700 students in approximately 113,600 sq-ft of open-space floor layouts. The modernization will aim to increase the overall area to 145,000 sq-ft to accommodate a capacity of 805 students.
Project Details
Lafayette Elementary School Modernization Project
Location: 5701 Broad Branch Road, NW
Ward: 4
Budget: $47.6 million (to include all construction, desgn, furniture, and provisions of swing space)
DGS Project Manager: Michael Quadrino, Nikkia Martin
Architect: Hartman-Cox / Grimm+Parker Architects
Design/Builder: TBD
Construction Start Date: June 2015 (Planned)
Construction Completion Date: August 2016 (Planned)
LEED Goal: Gold
Note: More information will be posted as it becomes available.